Disneyland Paris recently celebrated its 25th anniversary in 2017. With 320 million visitors to date, it is the most visited theme park in Europe.
The Parisian resort is also the largest Disney resort to open outside of the United States.
Disneyland Paris with its beautiful lavish design is definitely Disney's most gorgeous castle park
So if your Paris family vacation includes a visit here with kids in tow, the following low-down will help you make the most of it. If you are planning for a non-Disney Parisian holiday with kids, you can check out this guide.
What are you waiting for, buckle up and get ready for a fun adventure of a lifetime! Happy Travels!
Disneyland Paris
Formerly known as Euro Disney Resort, Disneyland is an entertainment resort in Marne-la-Vallée, France, a new town located 32 km east of the center of Paris. It encompasses two theme parks namely -Disneyland Park and Walt Disney Studios Park. Some of the best Disneyland rides are available at both places.
Also here there are many associated resort hotels, Disney Nature Resorts, a shopping, dining, and the Disney Village entertainment, a golf course along with several additional recreational and entertainment venues.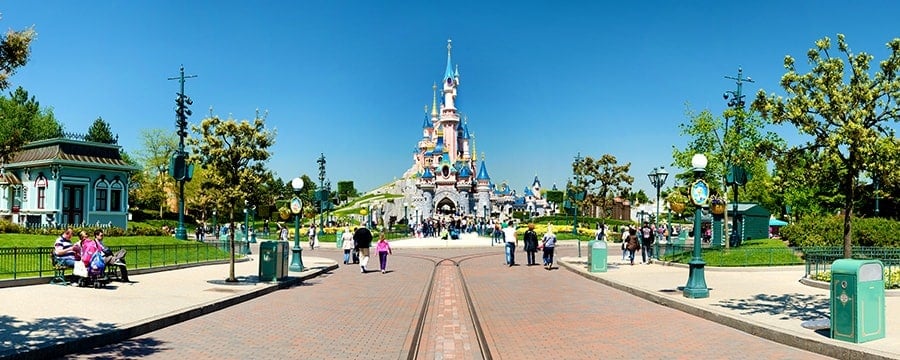 Disneyland in Paris
It is recommended to book your stay ahead through the Disneyland Paris Official website. If you choose to stay in an on-site Disney hotel, many additional perks get automatically included as Park tickets, hotel fast passes, character meets and greets in the hotels, meal plans, extra magic time, etc.
Best Time to visit
During its Halloween or Christmas seasons. Also, the weather is best in Paris from late September through mid-November.
For the ongoing year, Disney's Enchanted Christmas runs from November 9, 2019, through January 6, 2020. It can be the best time to visit since there's much of seasonal entertainment, stunning decorations all around the park and a special cheer of the city in the air.
If you are planning to visit later, the period until 2021-2024 can be a good one since a $2.5 billion revitalization and expansion to the Walt Disney Studios Park is planned involving Marvel, Star Wars, and Frozen as components.
For Disneyland Park Tickets as of October 2019: see this official website
Top Disneyland Paris Attractions you absolutely cannot miss
1) Disney Stars on Parade
This day time parade which was introduced anew for the park's 25th Anniversary is a beautiful highlight. The main piece of Stars on Parade is a big steampunk dragon based on Maleficent (Sleeping Beauty). Other floats feature the films of Peter Pan, The Lion King, Frozen, Toy Story, etc. The entire show is very pretty and enthusiastic.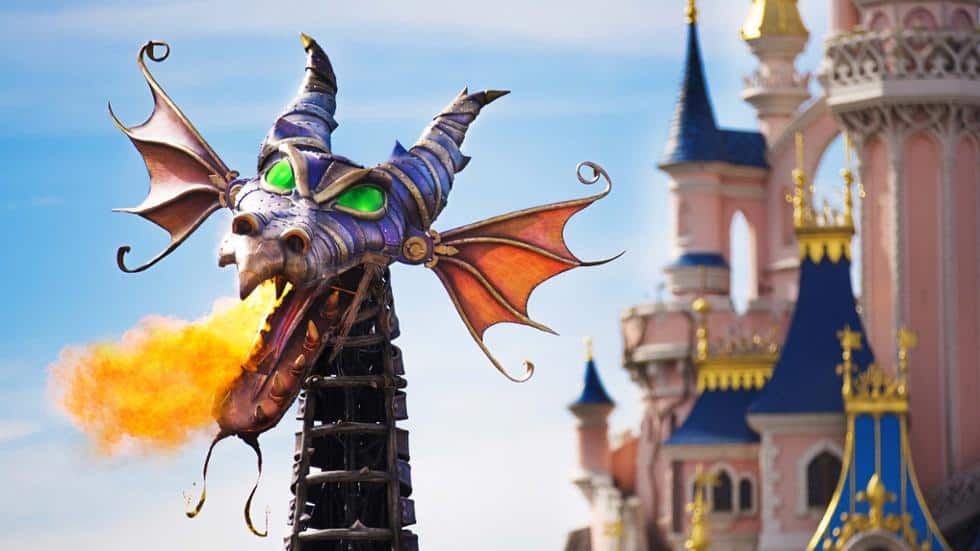 The parade is very popular. So arrive here at least half an hour early, if you want a good view.
2) Pirates of the Caribbean
This is a boat-ride is a dark ride attraction in Disneyland Paris. It is housed in a beautiful, under-siege fortress, with an elaborate queue area. There are dungeons, skeletons and fort walls with audio-animatronics pirates engaging in the mayhem.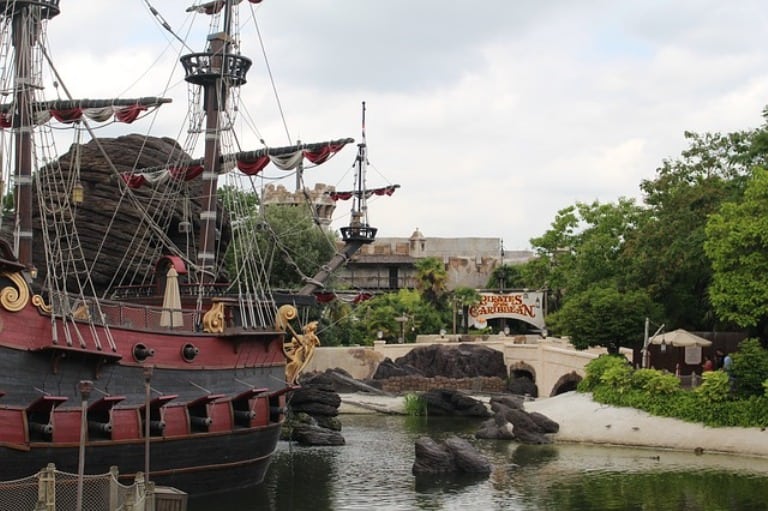 Visitors are treated to amazing music in the form of the iconic 'Yo-ho Yo-ho a Pirate's life for me' score playing throughout. This ride has also been updated recently in 2017 to include new features and characters like Captain Jack Sparrow and Captain Barbossa from the film franchise.
3) Star Wars Hyperspace Mountain
This dark intense roller coaster takes you into outer space through the theme of Star Wars. The indoor/outdoor roller coaster goes upside down more than once, and you will be thrown around endless corners, drops, corkscrews and loops with Star Wars music blaring in the dark.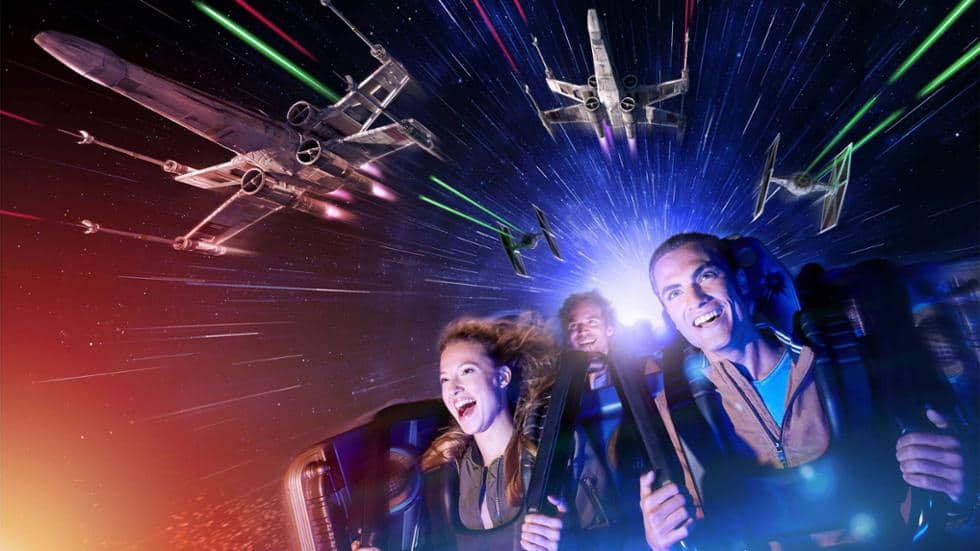 Of course, the heady mix of Star Wars and adrenaline-inducing roller coaster makes this attraction too hard to resist. The combination of light and dark, projections, colored lasers and themed background score all render this attraction a must-do tag.
4) Big Thunder Mountain
Big Thunder Mountain is a speedy roller coaster-type attraction designed for the entire family. A runaway mine train cart rattles you and your family wildly around a haunted mountain through the barren landscape of the Old West.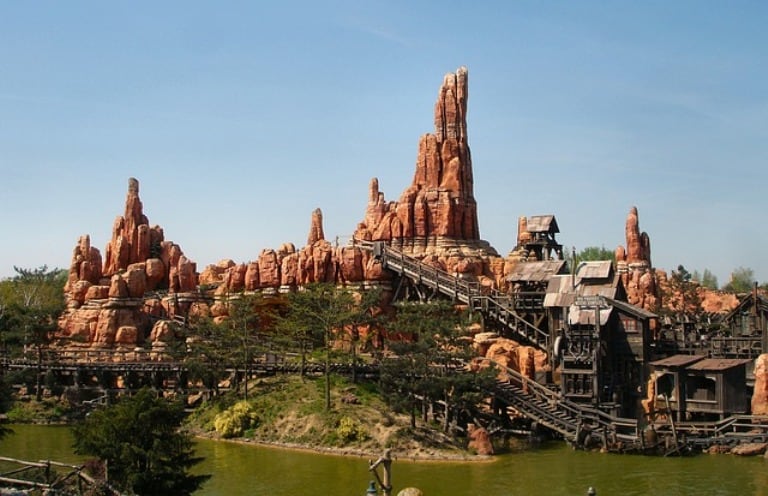 Some parts of this attraction are bumpy and, in some instances, take place in the dark. It is located on an island in Frontierland and you need to travel underwater on the ride to get to the island.
A thrilling journey of dips and sharp turns beneath Rivers of the Far West takes you around a ghostly mining town. Will you make it out alive? Hop on the adventure to see for yourself.
5) Buzz Lightyear Laser Blast
This omnimover attraction is a combination of a shooting gallery and a dark ride. It features a life-size Buzz Lightyear telling visitors their mission on the Laser Blast.
The mission is to defeat the evil Zurg as he plans to steal every battery on earth to power his army of robots to take over the planet. Visitors are an honorary Space Ranger for the day taking command of an XP-41 Space Cruiser.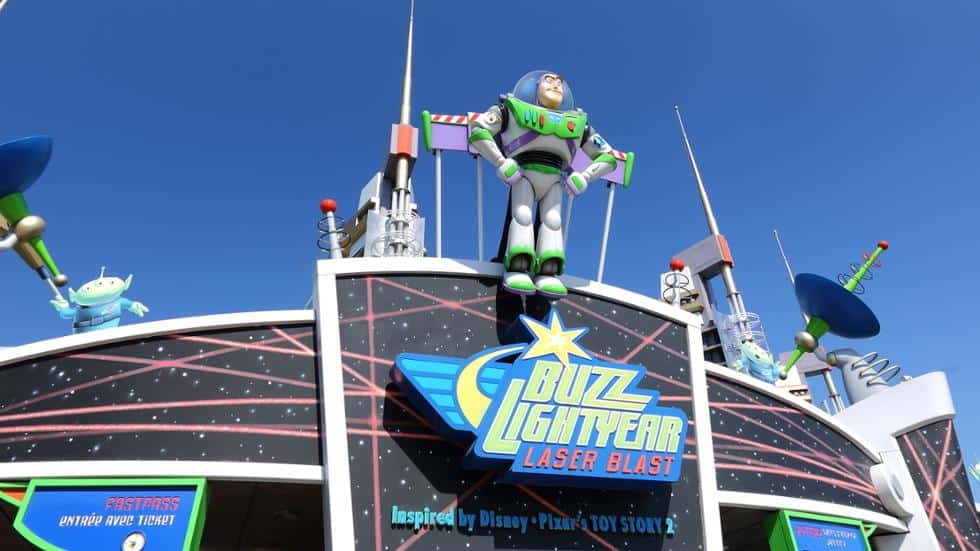 The cruiser is equipped with Laser Blasters which visitors are required to fire at targets throughout the 150 m track to lay Zurg's plans to rest. On the Space Cruiser's dashboard, you can see your score, as you progress.
This is a great ride for kids & adults who love to indulge in a small competition. Also f you have a Toy Story aficionado kid, this is a must-do ride. Since the indoor queuing area and the ride is Toy Story themed.
Top Walt Disney Studios Park Attractions
6) Ratatouille: The Adventure
This is a flagship attraction at Walt Disney Studios Park, which has visitors has scurrying through a gigantic kitchen with Remy from Ratatouille. This motion-based trackless 4 D dark ride is one of the most popular attractions at Studio Park.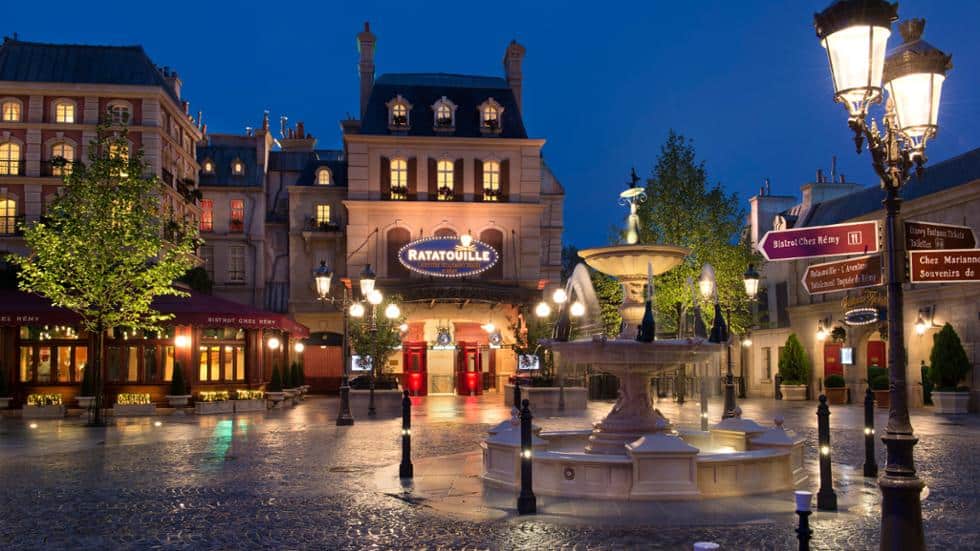 The immersive ride makes you feel that you've been shrunk to the size of a rat. The crux of the story-line is that of a chaotic chase. Passengers wear 3 D glasses and the cars move in a spinning and gliding motion, albeit very smoothly. The ride is suitable for all ages.
7) The Twilight Zone Tower of Terror
This iconic ride is a dark drop ride in a service elevator which also features a haunting pre-show and some special effects once on board. The elevator moves slowly backward, sideways and forwards to place visitors into the ride lift shaft proper.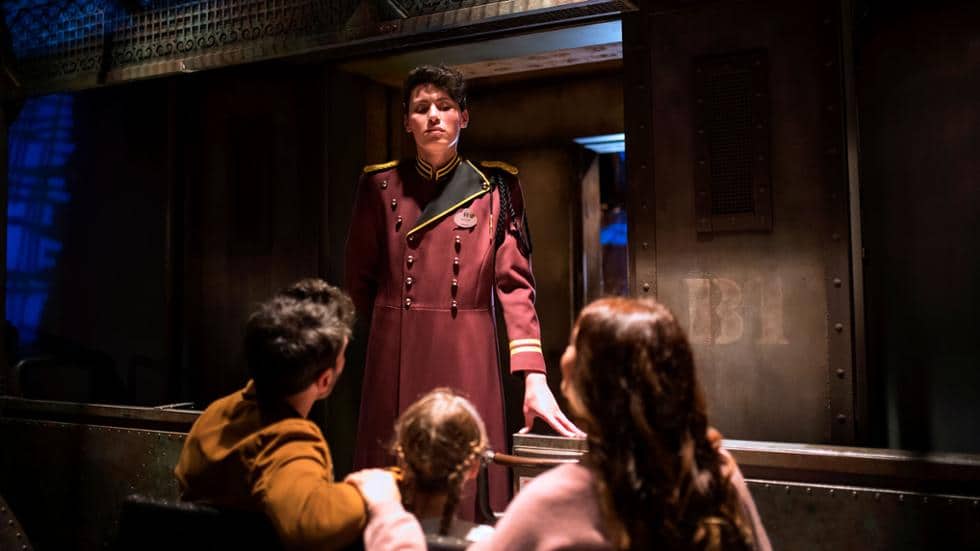 The Twilight Zone- Tower of Terror
This lift shaft is used for the main drop scenes. The drops are random for each lift so you never really know if you are going to drop suddenly or be held up high for a few frightening moments. The Tower of Terror soars a monstrous 183 feet tall.
It also has a basement area of 40 feet which the lift also drops into, making this a truly terrifying experience for even the most daring adrenaline junkie out there. There are 3 lift shafts with 6 lifts in each shaft. There's a pre-show lasting 5 minutes.
All said this is a very intense ride. So check in accordingly.
8) Crush's Coaster
Crush's coaster is a spinning indoor coaster. With its beached sound-stage, projections and characters from Finding Nemo, here you are swept spinning against the current in a whirlpool of adventure.
Visitors board a turtle shell that dives into the ocean and begins its incredible journey. Along the journey, you sent plunging to the deepest darkest depths, where a sunken submarine sits surrounded by voracious glow fish, jellyfish, and sharks.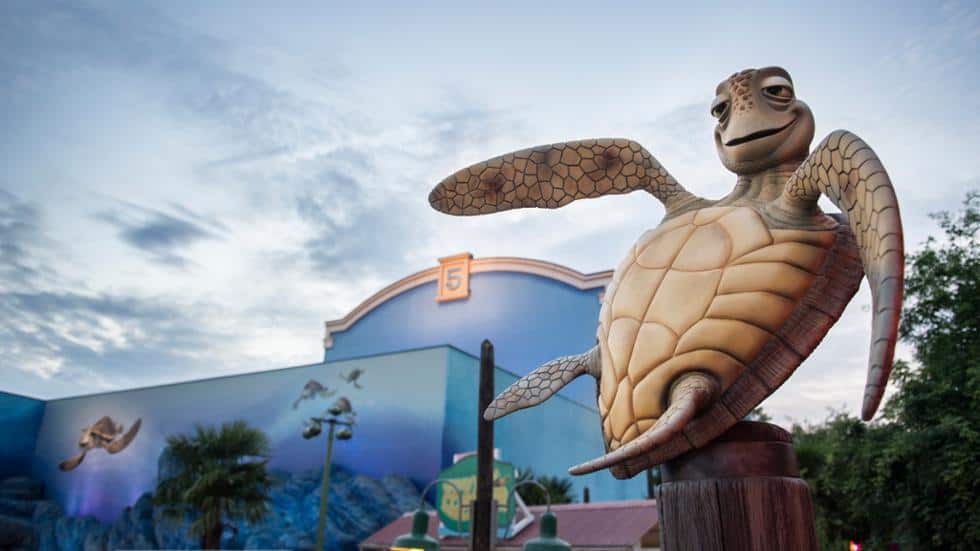 However, just in the nick of time, the strong East Australian Current churns you up and sends you spiraling back to the harbor to a rousing reception.
Cover this attraction first thing at the rope drop, since it often draws long wait times.
9) RC Racer
At this half-loop coaster, guests are strapped into an RC car from Toy Story where they are taken back and forth on the track. Andy's speediest toy car hurtles up and down a 25-meter high half-pipe coaster.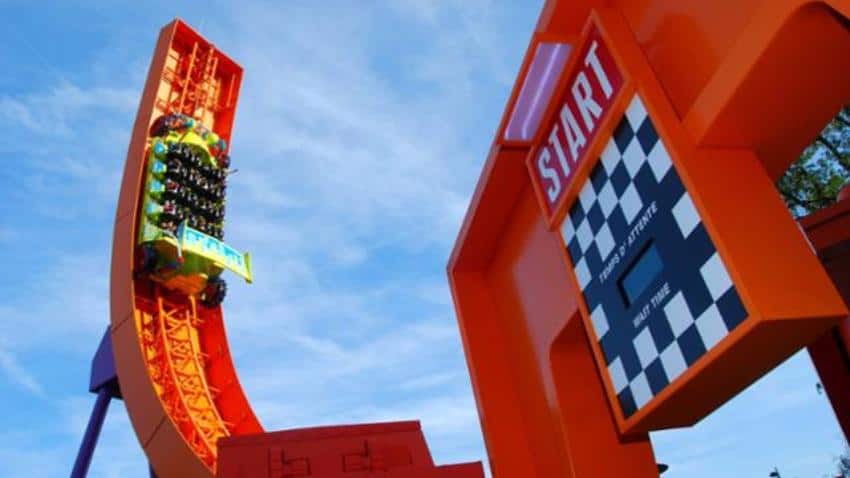 Once you've climbed into the huge remote-controlled car the speed is ramped up launching you on a thrilling ride of steep ups and downs. Over and over again. This thrilling ride also offers cool views of both the parks.
10) Mickey and the Magician
This hugely popular unique attraction is a musical extravaganza featuring the most beloved Disney characters on stage. The performance comes to life with stunning special effects & scenic backdrops. It sees Mickey trying to become a magician but somehow can't seem to get it right.
Visitors are then introduced to an array of special guests who help Mickey along the way to become a magician par excellence.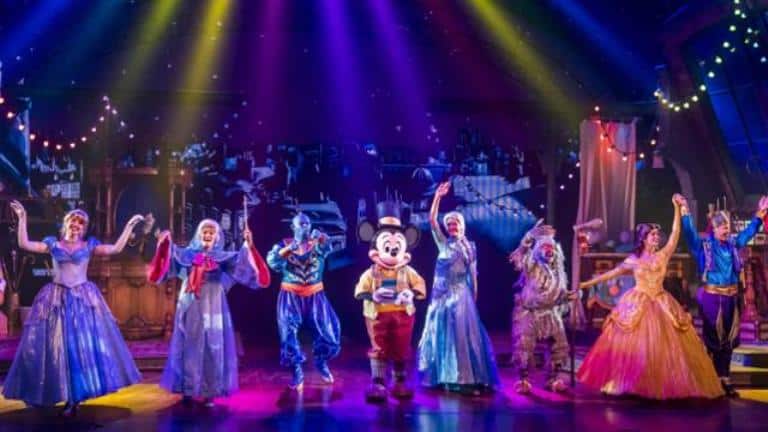 The show is spoken for all its duration in both French & English. Mickey converses in full animatronic facial expression.
It is a family show & is perfect for all ages especially young children. However, being currently a seasonal one; do check ahead for its availability before the time of your visit.